Highlights
Wednesday, April 16th, 2014
More Highlights
Videos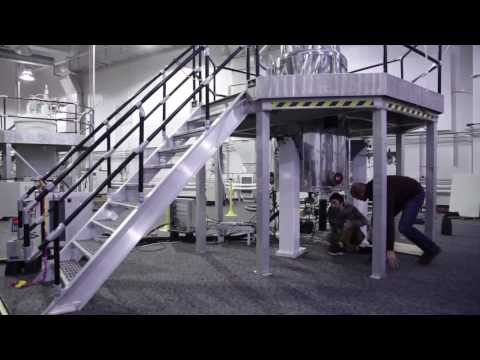 More Videos
Announcements
More Announcements
Events
More Events
Podcals
Podcast: Download (Duration: 3:00 — 2.7MB)
Friday, April 18th, 2014
More Podcals
A rundown of UW organic agriculture research
University of Wisconsin-Madison scientists are engaged in a wide range of research related to organic agricultural production practices, according to a new report released on Feb. 28 at the 2014 MOSES Organic Farming Conference in La Crosse. The report, published by the UW-Madison Center for Integrated Agricultural Systems (CIAS) and the Wisconsin Department of Agriculture, Trade and Consumer Protection  summarizes 23 studies conducted by researchers in the university's College of Agricultural and Life Sciences (CALS) in partnership with farmers across the state. The scientists are evaluating production practices for many of the state's main agricultural products—dairy forages and pasture, soybeans, potatoes, vegetables and fruits, among others—as well as farm management and marketing. The report also takes a more in-depth look at how some of the organic research projects have benefited the state's farmers. For example, UW plant pathologists Ruth Genger and Amy Charkowski are working with producers across the Upper Midwest to improve organic seed potato production and develop new organic varieties suited to the region. Those producers include Kat Becker and Tony Schultz, who tested the UW scientists' Papa Cacho potato on their Community Supported Agriculture farm in ...
Friday, February 28th, 2014
-20140228
featured-articles
10
A rundown of UW organic agriculture research
Modified poplars convert to ethanol more efficiently
For decades, John Ralph's group has been focusing its expertise in biology, chemistry and engineering on one of the most persistent hurdles to a bio-based fuel economy: lignin. As the organic polymer that binds plant cell, vessel and fiber cell walls, lignin resists chemical and enzymatic processing and thus acts as a structural barrier to converting biomass into liquid fuels. So-called "second-generation" biofuels, which derive from dedicated energy crops such as switchgrass or poplar trees, are all lignocellulosic, meaning their woody cell walls contain lignin polymers. Ralph, a University of Wisconsin–Madison professor of biochemistry and biological systems engineering and the Plants Leader within the Great Lakes Bioenergy Research Center (GLBRC), recently collaborated with researchers at Michigan State University, Ghent University in Belgium, and INRA in France on a field trial of lignin-modified poplar trees to measure any increase in ethanol yields. The group's paper, "Improved saccharification and ethanol yield from field-grown transgenic poplar deficient in cinnamoyl-CoA reductase," appeared recently as a cover article in the Proceedings of the National Academy of Sciences, and reports on a field trial of poplars in which ...
Monday, February 17th, 2014
-20140217
bioenergy-bioproducts
10
Modified poplars convert to ethanol more efficiently
Communicating science in the digital age
Two months after retiring from the Madison-based Wisconsin State Journal, where for 34 years he'd reported primarily on science and the environment, Ron Seely splays his hand on the table and points to a small knot of flesh on his palm. It's from how he cradled his iPhone, his physician told him, especially when Seely was constantly tweeting live from such events as legislative hearings on mining in Wisconsin. "It was exhausting," says Seely, who like many journalists balanced the new duties of tweeting and other social media tasks with researching and writing his stories, all while meeting daily deadlines. "It's a vicious cycle: You create the expectation that people will have news instantly." Seely began his career in daily journalism with hot type and ended it with hot tweets. And his career—which includes serving as a teacher of life sciences communication at CALS—reflects the seismic changes that have jolted science journalism. Take it from anyone who has ever struggled through freshman biology or o-chem: science news was hard enough to understand before the collapse of traditional media. Then Twitter and other social media ...
Monday, February 10th, 2014
-20140210
changing-climate
10
Communicating science in the digital age
Healthy Ecosystems
Five things everyone should know about… sinkholes
1. They exist in Wisconsin. Parts of the Badger State have bedrock consisting of dolomite, an easily fractured rock that can be dissolved by water seeping down beneath the surface soil. That erosion can create an underground cavity that becomes a sinkhole if the surface soil above it collapses. 2. But they are relatively small. The past year has been full of hellacious reports involving sinkholes: the man who survived an 18-foot fall into a sinkhole on an Illinois golf course, the Florida man who died after falling into a 60-foot-deep sinkhole that had formed beneath his home. In Wisconsin sinkholes tend to be much more tame—smaller than 10 feet across. (And, while their depth varies, most sinkholes are about as deep as they are wide.) Wisconsin sinkholes are smaller due to the bedrock found here. Dolomite is less easily dissolved than limestone and other types of rock that allow for bigger sinkholes in other parts of the world. 3. Some parts of Wisconsin are more prone to sinkholes than others. And to find them, follow the dolomite. It appears in a large V-shaped formation from Green Bay ...
Monday, April 14th, 2014
-20140414
healthy-ecosystems
10
Five things everyone should know about… sinkholes
Healthy Ecosystems
Science on Tap sparks UW, Northwoods dialogue
[caption id="" align="alignnone" width="600"] Anna Pidgeon, an assistant professor of forest and wildlife ecology, speaks to the crowd about birds and their environment at the Minocqua Brewing Company.[/caption] University of Wisconsin-Madison researchers are highlighting the university's impact more than 200 miles away from campus through a series of conversations involving community members on topics ranging from carnivore conservation to climate change. Science on Tap-Minocqua, held the first Wednesday of every month at the Minocqua Brewing Company, is a collaborative effort between local UW-Madison research stations, the Lakeland Badger Chapter of the Wisconsin Alumni Association and the Minocqua Public Library that aims to create an ongoing dialogue between Northwoods residents and the university. "We hope for a two-way dialogue between researchers at the university or elsewhere that are leading the presentation and the community," says Tim Kratz, director of Trout Lake Station, a Center for Limnology field station located near Minocqua, Wis. Kratz suggested the format after discovering a similar event hosted in Ashland on a trip back from Duluth, Minn. The Minocqua event allows UW-Madison researchers to showcase their research and how it affects ...
Tuesday, April 8th, 2014
-20140408
healthy-ecosystems
10
Science on Tap sparks UW, Northwoods dialogue
Economic and Community Development
Mapping the Historical Roots of Poverty and Inequality in Mexico
What can political, climatic and epidemiological events in 16th Century Mexico tell us about that country's modern agrarian system? What is history's role in defining the present? These are questions Jennifer Alix-Garcia and graduate student Emily Sellars are exploring in research that ultimately seeks to shed new light on what makes development projects work. When the Spanish conquistadors arrived in Mexico in 1519, they found flourishing agriculture-based communities and a population of about 25 million. Only six decades later, European diseases and two periods of brutal local plague, coupled with the severest drought in 600 years, had killed 90% of the native population. It was the worst demographic collapse in human history. "Such radical de-population had to have a large impact on the institutions developed by the Spanish colonists," explains Alix-Garcia. In particular, the extreme shortage of workers led to coercive labor practices that mimicked European feudal systems, or even slavery. Native people were expected to "tithe" a certain amount of labor to colonists who had expropriated land once farmed by those who had succumbed to pestilence. It was easy for the ...
Friday, April 4th, 2014
-20140404
economic-community-development
10
Mapping the Historical Roots of Poverty and Inequality in Mexico