Highlights
Tuesday, April 22nd, 2014
More Highlights
Videos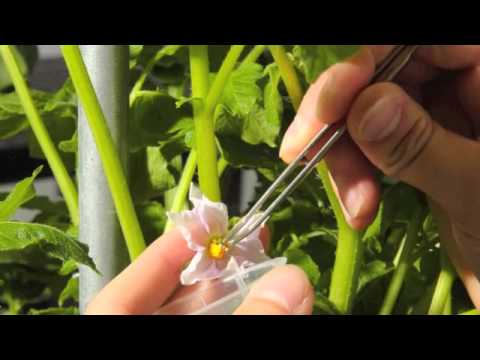 More Videos
Announcements
Wednesday, April 23rd, 2014
More Announcements
Events
More Events
Podcals
More Podcals
A rundown of UW organic agriculture research
University of Wisconsin-Madison scientists are engaged in a wide range of research related to organic agricultural production practices, according to a new report released on Feb. 28 at the 2014 MOSES Organic Farming Conference in La Crosse. The report, published by the UW-Madison Center for Integrated Agricultural Systems (CIAS) and the Wisconsin Department of Agriculture, Trade and Consumer Protection  summarizes 23 studies conducted by researchers in the university's College of Agricultural and Life Sciences (CALS) in partnership with farmers across the state. The scientists are evaluating production practices for many of the state's main agricultural products—dairy forages and pasture, soybeans, potatoes, vegetables and fruits, among others—as well as farm management and marketing. The report also takes a more in-depth look at how some of the organic research projects have benefited the state's farmers. For example, UW plant pathologists Ruth Genger and Amy Charkowski are working with producers across the Upper Midwest to improve organic seed potato production and develop new organic varieties suited to the region. Those producers include Kat Becker and Tony Schultz, who tested the UW scientists' Papa Cacho potato on their Community Supported Agriculture farm in ...
Friday, February 28th, 2014
-20140228
featured-articles
10
A rundown of UW organic agriculture research
Modified poplars convert to ethanol more efficiently
For decades, John Ralph's group has been focusing its expertise in biology, chemistry and engineering on one of the most persistent hurdles to a bio-based fuel economy: lignin. As the organic polymer that binds plant cell, vessel and fiber cell walls, lignin resists chemical and enzymatic processing and thus acts as a structural barrier to converting biomass into liquid fuels. So-called "second-generation" biofuels, which derive from dedicated energy crops such as switchgrass or poplar trees, are all lignocellulosic, meaning their woody cell walls contain lignin polymers. Ralph, a University of Wisconsin–Madison professor of biochemistry and biological systems engineering and the Plants Leader within the Great Lakes Bioenergy Research Center (GLBRC), recently collaborated with researchers at Michigan State University, Ghent University in Belgium, and INRA in France on a field trial of lignin-modified poplar trees to measure any increase in ethanol yields. The group's paper, "Improved saccharification and ethanol yield from field-grown transgenic poplar deficient in cinnamoyl-CoA reductase," appeared recently as a cover article in the Proceedings of the National Academy of Sciences, and reports on a field trial of poplars in which ...
Monday, February 17th, 2014
-20140217
bioenergy-bioproducts
10
Modified poplars convert to ethanol more efficiently
Communicating science in the digital age
Two months after retiring from the Madison-based Wisconsin State Journal, where for 34 years he'd reported primarily on science and the environment, Ron Seely splays his hand on the table and points to a small knot of flesh on his palm. It's from how he cradled his iPhone, his physician told him, especially when Seely was constantly tweeting live from such events as legislative hearings on mining in Wisconsin. "It was exhausting," says Seely, who like many journalists balanced the new duties of tweeting and other social media tasks with researching and writing his stories, all while meeting daily deadlines. "It's a vicious cycle: You create the expectation that people will have news instantly." Seely began his career in daily journalism with hot type and ended it with hot tweets. And his career—which includes serving as a teacher of life sciences communication at CALS—reflects the seismic changes that have jolted science journalism. Take it from anyone who has ever struggled through freshman biology or o-chem: science news was hard enough to understand before the collapse of traditional media. Then Twitter and other social media ...
Monday, February 10th, 2014
-20140210
changing-climate
10
Communicating science in the digital age
Uncategorized
UW-Madison CALS invites nominations for honorary recognition, service and alumni awards
The University of Wisconsin-Madison College of Agricultural and Life Sciences invites nominations for its 2014 Honorary Recognition Award, Distinguished Service Award and Distinguished Alumni Award. These are the highest honors bestowed by the college. - The Honorary Recognition Award was first offered in 1909 and has been presented to more than 500 individuals for outstanding service and leadership in the areas of agriculture, life sciences, natural resources and social science. - The Distinguished Service Award, first offered in In 1994,recognizes CALS faculty and staff members for commendable service to the college and university, to citizens of Wisconsin, and to people around the nation and the world. - The Distinguished Alumni Award, introduced in 2009, recognizes a CALS alumna or alumnus with a career of outstanding achievement through extraordinary contributions to one's chosen field or an exemplary record of public service. The awards will be presented at a banquet in Madison in October. Nomination information for each award and a listing of past honorees is available at www.cals.wisc.edu/honorary.  Nominations are due May 23. Please contact alumni@cals.wisc.edu for additional information. For more information: Kara Luedtke, (608) 890-2999, alumni@cals.wisc.edu
Thursday, April 24th, 2014
-20140424
uncategorized
10
UW-Madison CALS invites nominations for honorary recognition, service and alumni awards
Food Systems
CDR cheesemaker Ray Michels among UW classified staff honored for excellence
Ray Michels, a cheesemaker at the Wisconsin Center for Dairy Research, is among five members of the University of Wisconsin-Madison's classified staff who were recently named recipients of the 2014 Classified Employee Recognition Awards. As announced in this UW news release, the award winners will be honored by Chancellor Rebecca Blank at a reception on Thursday, May 15 at Olin House. [caption id="" align="alignleft" width="200"] Ray Michels[/caption] The release included this write-up about Michels: John Jaeggi, a research at the Center for Dairy Research who submitted the nomination, says that Michels is the center's resident butter-making expert, and has worked hard to obtain Pasteurizer Operator Certification, extensive safety and sanitation training, and most recently a Wisconsin cheesemaker's license. "Ray is vital in running numerous pieces of equipment necessary to manufacture a wide array of cheeses," Jaeggi says. "This skill set is unique – there is no one in the cheese industry with experience in the operation of the wide variety of equipment used to make processed and natural cheeses." Michels has been working in Babcock Hall since 1977, first for the dairy plant, and now ...
Thursday, April 24th, 2014
-20140424
food-systems
10
CDR cheesemaker Ray Michels among UW classified staff honored for excellence
Health and Wellness
Richard Gourse elected to American Academy of Arts and Sciences
University of Wisconsin-Madison bacteriologist Richard L. Gourse is among leaders from academia, business, public affairs and the arts and humanities elected to membership in the American Academy of Arts and Sciences, it was announced today. [caption id="" align="alignleft" width="163"] Richard L. Gourse[/caption] The Ira L. Baldwin Professor of Bacteriology, Gourse joins an eminent class of inductees that includes Nobel laureates, winners of the Wolf and Pulitzer Prizes as well as Grammy, Emmy, Oscar and Tony award winners. Gourse joined the UW-Madison faculty in 1988 and is currently chair of the bacteriology department. Working primarily with the model organism Escherichia coli, Gourse is well known for his studies of how genes are expressed in cells, primarily transcription initiation and the control of ribosome synthesis. Previous honors include election as a fellow for the American Academy of Microbiology and the American Association for the Advancement of Science, both in 2003. In 2007, he received the National Institutes of Health Merit Award. The American Academy of Arts and Sciences was established in 1780 and each year elects "thinkers and doers" as fellows, among them George Washington, Benjamin Franklin, ...
Wednesday, April 23rd, 2014
-20140423
health-wellness
10
Richard Gourse elected to American Academy of Arts and Sciences
Food Systems
Student teams from across the nation compete for Agricultural Innovation Prize
[caption id="" align="alignnone" width="600"] Student teams from around the nation will compete at the University of Wisconsin-Madison April 25-26 for the Agricultural Innovation Prize, for addressing challenges in food systems.[/caption] The University of Wisconsin-Madison will host 30 teams of undergraduate and graduate students from across the country this week for the national Agricultural Innovation Prize. The competition is run through the Wisconsin Institute for Discovery (WID), powered by the 40 Chances program of the Howard G. Buffett Foundation and run in cooperation with the U.S. Department of Agriculture. Since its call for proposals in October 2013, the prize has received 250 student submissions addressing challenges in 21st century food systems such as food scarcity and availability, distribution and environmental quality. The Howard G. Buffett Foundation is funding the competition, offering $240,000 in total prizes. The top proposal will receive $100,000 — the largest award for an agriculturally focused student contest. On Friday, April 25, from 8:45 a.m. to 3 p.m.; and Saturday, April 26, from 8:30 a.m. to 3 p.m., members of the media and public are invited to attend the official competition at ...
Tuesday, April 22nd, 2014
-20140422
food-systems
10
Student teams from across the nation compete for Agricultural Innovation Prize
Newsmakers
Susan Paskewitz – tick season
Tick season in Wisconsin
Entomology professor Susan Paskewitz is an expert on the biology and control of insects that transmit human and animal diseases, including the mosquitoes that cause malaria and West Nile virus and the ticks that transmit Lyme disease, anaplasmosis and ehrlichiosis. Paskewitz recently talked about ticks on the April 18 episode of podCALS, describing how the cold winter we just experienced may not impact tick populations, as well as a new research project her lab is working on to control ticks by providing insecticide-impregnated cotton to mice. For more information about Paskewitz, visit her profile in the UW's Experts Guide and her lab website.
Monday, April 21st, 2014
-20140421
newsmakers
10
Susan Paskewitz – tick season